Redland Bay Pressure Washing Services
Our Redland Bay Pressure Washing Services are available for both Homes and Businesses.
Our specialist team can improve the look and charm of your residence quickly and at a very affordable price.
We have all the tools, expertise and experience to get your residence looking superb, both inside and out. We can also help to preserve Your residences overall appearance through regular pressure cleaning, removing unsafe mould, bacteria and general build-up, thus maintaining the overall condition of your house.
Our Redland Bay Pressure Washing Services can also significantly boost the Curb Appeal and Resale Value of your home. This is especially important if you are considering putting your residence on the market. By spending a little money boosting the curb appeal you can quickly increase the Sales Value by having your home look incredible to potential buyers. In this instance, pressure washing is an investment, not a cost, as you will get back much more than you spend.
It is very important that your household feel secure in their home, so eliminating any dangerous contaminants and other unsafe or hazardous materials will create a much healthier living environment. Our Redland Bay Pressure cleaning services can get rid of the toxic substances and dirt on your houses exterior.
Extending the life of your residences paintwork is another advantage of regular pressure washing. When you have your residence properly power cleaned, it can prolong the lifespan of the paint on your homes exterior. Also, by pressure washing before repainting a home, you are painting on a clean surface and boosting the vibrancy and brilliance of the paint job.
Pressure cleaning also helps in decreasing upkeep cost by –
* Reducing mould and mildew
* Getting rid of droppings and other elements that build up on your residence
* Preventing corrosion
* Avoiding rotting and decay of the woodwork in your residence.
Regular maintenance on your house or commercial premises helps you stay clear of major repair work or damage costs down the road.
You should also be aware that high pressure cleaning done badly can damage your roof and gutters. The last thing you want is roof damage from a pressure washer. In addition, the pressure streams this equipment can deliver are enough to harm you, particularly when you are using them at heights. To protect your own wellbeing, we strongly recommend getting a Free Quote from the experts in Redland Bay Pressure Washing Services.
We also provide Pressure Cleaning for Redland Bay Businesses and other Organizations such as Schools, Public Bodies such as Libraries etc. Pressure Washing will produce a happier, healthier working environment for your employees. If the building is clean, your staff do not fret about microorganisms, dust, germs, and grime around your businesses. The workplace is much more effective when a safe environment is provided; this is especially true where public safety is important, such as food preparation areas.
Knowing they are in a clean, safe working environment will put your employees in a far better state of mind. And happy employees are far more productive.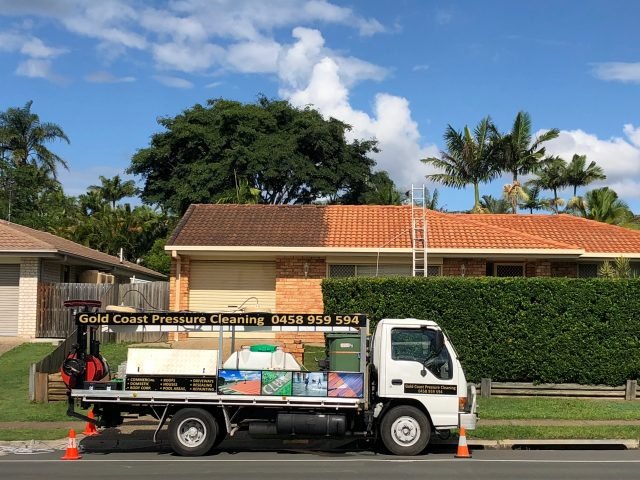 The "Face" your company presents to potential customers is vitally important. The outside of your organisation gives potential clients their very first perception of you as a business – and you only have one shot at a good first impression. If you cannot maintain the look of your building, they are going to question just how well are you going to deal with their needs as a client?
The risks involved with Redland Bay Pressure Washing should not be under-estimated. Many individuals do not understand that a pressure washing machine can do serious damage, both to you and your premises, especially if the pressure washing equipment is not used appropriately. It takes a skilled professional, with experience, technique and experience to do the job properly.
Why Use the Redland Bay Pressure Cleaning Professionals?
In a nutshell, results, safety and affordabity. Employ a specialist Pressure Washing group with years of experience. In addition, we are a Registered Business (ABN 98 682 551 398), not an individual that purchased a pressure cleaner this weekend to make a little extra money. We guarantee your satisfaction. We use industrial-grade pressure washing tools, cleaners, and non-toxic chemical free cleaners, to guarantee best results when you use us.
Contact our Redland Bay Pressure Washing Provider now by ringing Mitch on 0458 959 594, or you can email me at gcpressurecleaning@gmail.com