Should you pressure wash your own home and business – Or should you use professional Pressure Washing Services in Reedy Creek Gold Coast Qld?
It is tempting to pop into Bunnings, buy yourself a pressure washer and clean your home or business yourself.  This ignores the safety issues – it can cause serious damage or injury to you, your family, your property and you can possibly even damage a next-door neighbour's home or property.  Count how many toes you have now, then watch the video …..
Still want to pressure clean your own Reedy Creek home?
Doing your own Reedy Creek Pressure Washing can lead to serious Property Damage to you, your home or business, or to a neighbour's belongings.  Here are just some of the issues that can arise …..
 Damaged or broken windows
Damaging your driveway or other concrete
Damaging cars or other products outside the house
Possible damage to a neighbours house or belongings
Our Reedy Creek Pressure Washing Experts have years of training and experience – Call Mitch now on 0458 959 594 and get the job done professionally
We all want our homes to look great – our Reedy Creek Pressure Cleaning Services can quickly enhance the curb appeal of your house – especially important if you are thinking of selling.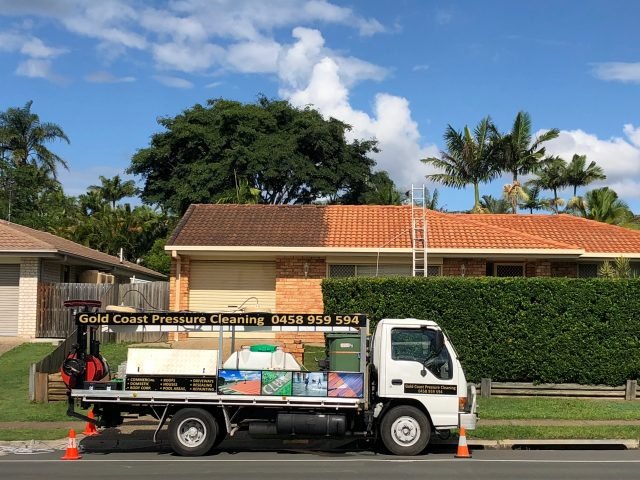 Below are some of the reasons to think about having your home professionally pressure washed routinely.
Keeping Your Home's Condition
Pressure cleaning will assist in maintaining the general appearance of your house.  With regular pressure washing, you can get rid of hazardous contaminants and accumulated rubbish on your house, and enhance the overall condition.
Increase the Curb Appeal and Resale Worth
If you intend selling your home, curb appeal has to look magnificent – you get just one chance to make a great first impression.  Potential buyers will not set foot inside your home if they can't get past how bad the outdoor appearance is. Our Reedy Creek Pressure Cleaning Services will immediately change the way your house looks. It will look cleaner, the paint will look much better, the guttering won't be filled with leaves and the roofing tiles will look properly maintained. Your deck – if you have one – will appear in pristine condition. Even if you do not plan on selling your home, don't you like getting back at the end of the day to a nice-looking home that you are proud of?
Maintaining a Healthy Family
Your family deserves to be safe in their house.  Eliminating toxic substances in the air, smut, smog, dirt, and other harmful toxins outside and around your residential or commercial property will help produce a healthier living environment. Your family is breathing it in if your home is covered in these toxic substances and dust. Pressure washing can remove a majority of the unhealthy dirt, debris, and buildup on your house's exterior. Your kids will breath cleaner air when they're playing in the backyard.  Your family's health begins at home, so preserving a clean tidy environment is essential to ensure the very best health possible for your loved ones.
Extend the Life of Your House's Paint
When you have your home professionally power washed its can extend the life of the paint on your home. By pressure cleaning prior to painting a house, you're painting on a clean surface. It not only helps protect the life of the paint, it also helps enhance the vibrancy and luster of the paintwork.
Minimize House Upkeep Costs
Pressure cleaning can help decrease maintenance costs. It will assist to ….
Minimize mould and mildew buildup
Clean off droppings and other components that build up on your house
Avoid rust or corrosion (in turn, minimizing repair needs).
Avoids wood rot and decay on your home.
By keeping your residential or commercial property regularly maintained, you prevent significant repair or damage expenses down the road. This is a main advantage of pressure washing your home and working with a professional Reedy Creek Power Cleaning Company to do the task.
What about your Business?
YOUR EMPLOYEES:  The work environment is more productive when it is clean. Your employees are going to feel more at ease working in an environment they feel safe in. They don't need to fret about their health or breathing in harmful grime or chemicals around your building. Knowing they are in a properly maintained, tidy environment, will put employees in a better state of mind.
YOUR COMPANY: The exterior of your business says plenty about what clients can expect if they choose to engage you to do their pressure washing. If your building is run down and unclean, what should they expect from you? If you can't keep the look of your property good, how well are you going to handle their requirements, as a customer?
Our Reedy Creek Power Cleaning Company Can Help!
We utilize industrial-grade pressure washing devices, cleaners, and toxic/chemical-free cleaners, to get your home or business looking its best when you hire us .
Why Hire the Pros?
If the reasons above aren't sufficient, possible injuries to yourself, a relative, a neighbor, or a pedestrian, may be. If you hurt another person, not only will this lead to medical costs and other costs you'll have to pay, depending on the intensity of the injury it might bring on an impending lawsuit as well. Don't risk trying to rent devices and do the work yourself. It's to your benefit to work with a professional team that's knowledgeable, has years of experience working with the equipment, and will ensure safety and accuracy in their pressure cleaning work.
Whether it's a school, workplace building, local neighborhood center, or pressure washing the driveway of a house, we ensure your satisfaction with the services we carry out. Contact Mitch on 0458 959 594 for a free quote and to have us come to your home or organisation to pressure clean your property.