Mudgeeraba Pressure Cleaning Services
Pressure Washing For Mudgeeraba Homes & Businesses
It is tempting to think you can rent a pressure washer and clean your home yourself.  This ignores the skills and experience required to handle this dangerous piece 0f equipment.  Apart from the damage it can cause to property, personal injuries can also happen, plus you can potentially harm a neighbour's house or car.
Pressure Cleaning for Mudgeeraba Homes
You love to have your home looking excellent, both outside and in. Our Mudgeeraba Pressure Washing Experts can quickly improve the curb appeal and appearance of your home.  Here are some of the many factors to consider when considering having your house expertly pressure cleaned regularly.
Maintaining Your House's Condition
Mudgeeraba Pressure washing will help preserve the overall appearance of your home. With regular pressure cleaning, you can get rid of harmful toxic substances and accumulation from your environment, and enhance the general condition of your home.
Increase the Curb Appeal and Resale Worth
If you intend selling your home, curb appeal has to look incredible to potential buyers. Our Mudgeeraba Pressure Cleaning Services will instantly change the way your home looks. Even if you do not intend selling your house, don't you like coming home to a nice-looking property that you are proud of?
Preserve a Healthy Family
It is important that your family feel safe at home, so removing contaminants in the air, smut, smog, dirt, and other hazardous contaminants outside and around your home will help produce a much healthier living environment. Your family members are breathing it in if your house is covered in these toxic substances and dust. Pressure cleaning can eliminate the toxic, dirt, debris, and accumulation on your home's exterior. When they're playing in the yard, your kids will breath cleaner air. Your family's health starts with your home environment – for that reason, maintaining a clean interior and exterior is very important to guarantee the finest health possible for your home and family.
Extending the Life of Your Home's Paint Job
When you have your house professionally power cleaned, this can extend the lifespan of the paint on your home's exterior. By pressure washing before painting a home, you're painting on a clean surface – this not only helps protect the life of the paintwork, but also assists in improving the vibrancy and luster of the paint on your house.
Minimize House Maintenance Costs
Pressure cleaning can assist in reducing maintenance costs. It will help –
* Decrease mould and mildew buildup
* Clean off droppings and other elements that accumulate on your home
* Avoid rust (in turn, decreasing repair work requirements outside the home).
* Prevents wood rot and decay on your home.
Not just will this benefit your home generally, it will specifically benefits the roof, driveways and, if you have one, a deck or patio area also.
By protecting your residential or commercial property on a regular, consistent basis, you avoid major repair or damage expenses down the road. This is a primary advantage of pressure washing your home and working with an expert to get the job done.
Pressure washing will assist in maintaining the general appearance of your home. Our Mudgeeraba Pressure Cleaning Service will instantly change the way your home looks. When you have your house expertly power cleaned this can extend the life expectancy of the paint on your home's exterior.
Roof Damage.
The last thing you want is roof damage from a pressure washer. The pressure streams these machines can deliver are strong enough to damage your roofing, especially if the roof is currently in bad condition. It's going to end up costing far more to repair the roofing, or possibly even replace it, than the expense of employing a Mudgeeraba pressure washing company. In addition to harming the roofing, you can damage the gutters too, resulting in even greater expenses for repairs at a later date.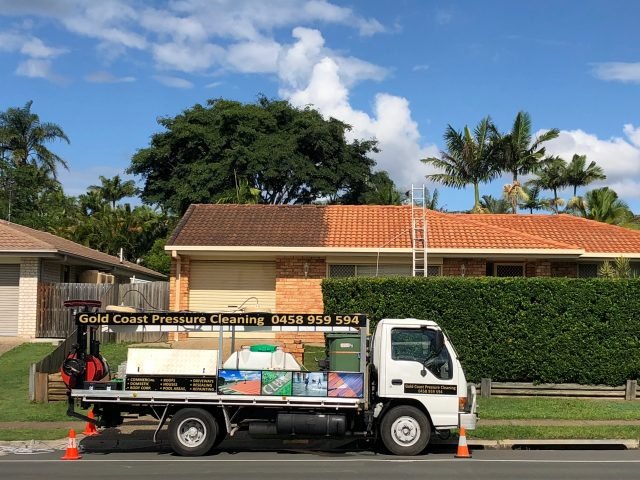 Pressure Cleaning for Mudgeeraba Businesses
Pressure Washing Produces a Healthier/Happier Work Environment for Employees. If the building is clean and tidy it is an environment your employees are happy to to work in . They don't need to fret about bacteria, dirt, bacteria, and grime all over the businesses exterior, especially making its way inside to where they are working. Nor do they need to fret about their cars and trucks getting dirty from dust and debris on the exterior of your commercial property. A tidy business develops a clean, toxic-free workplace for those who work within the organization.
The Work Environment is More Productive When Your Business is in a Clean State.
Your workers are going to feel more at ease working in an environment they feel safe in. They don't need to fret about their health and breathing in the toxic gunk or chemicals building up around your building finding its way inside. Knowing they are in a well-kept, tidy environment will put workers in a much better mood. If you see the same, dirty, dull office or factory everyday, would you want to work there? If the response is no, you can't expect your employees to be happy either.
The "Face" of Your Business to Potential Clients.
The outside of your organisation gives potential clients their First Impression of your business (and you only get one shot at a first impression). If it's filthy and drab from the outdoors, what should they anticipate when they walk inside? Ever more concerning is that if you can't maintain the look of your property, how well are you going to deal with their requirements as a customer? Do not plant those thoughts in their minds before they even enter your business!
Dangers of Mudgeeraba Pressure Washing
Many individuals don't think that a pressure washer can do so much damage until they see it. Damaging roofing or the concrete driveway outside your home or company is possible if the pressure washing equipment isn't used properly. It takes a professional, with an experienced approach and experience in the industry, to do the job properly. Now watch the video below – And imagine how you might feel with no toes!

Whether it's a business, school, workplace, community center, or even a Body Corporate job – we guarantee your satisfaction with the Mudgeeraba Pressure Cleaning Services we perform. We utilize industrial-grade pressure-washing devices, cleaners, and non-toxic/chemical-free cleaners, to get your house or company looking its best when you employ us for cleaning services. Contact Mitch on 0458 959 594  for a Free Quote, to find out more about pricing, or to have us come out to your home or business to advise you on pressure cleaning your residential or commercial property.
Why Employ the Mudgeeraba Pressure Cleaning Experts?
In a nutshell, results, safety and affordable costs. It's in your best interest to employ an expert team that has years of experience working with this powerful – read dangerous – equipment  And we are a Registered business, not some fly by night who bought a pressure cleaner this weekend.
We Can Help! Ring Mitch on 0458 959 594 now and get the very best in Mudgeeraba Pressure Cleaning Services.